Weather pictures always make the news
Man has always been a curious creature, that's the main reason the news industry operates, to feed that curiosity.
More often than not, weather phenomena tend to be on the top of the list of picture editors and news-gatherers alike, but it is rarely an easy task.
Whether a photograph can be taken or not, relies heavily on the photographer having the right gear with him, and I am not referring to cameras and lenses! Right gear might be a pair of Wellington boots, or even a spare pair of dry socks.
What might be involved is climbing a mountain, or walking through snow, ice, even cow manure. Gloves are essential and appropriate clothing a must.
On the other hand, a press photographer might be prepared, but very rarely does a photographer have the luxury of a pre-arranged photo-shoot to depict the weather. This would be more of a "photo-call" rather than a news picture.
When the weather turns cold and snowy, my first port of call is the stunning Brecon Beacons in mid Wales, a trully stunning location to photograph, irrespective of the weather. It has a few different things in terms of terrain and a variety of photography can be achieved including news and landscape.
I found myself going to the Brecon Beacons twice recently. The A4059, between Penderyn and the A470 can be quite a difficult road to drive on when it has snowed, as it's more likely iced over.
Nevertheless, knowing when and where to stop and obviously what to look out for, is what drives a competent press photographer.
Safety is of paramount importance and you can't just stop your car, switch your hazard lights on and wait for a picture to miraculously happen right in front of your very eyes.
During my first trip, it was really early in the morning and everything still had a light blue hue.
The picture above shows the stretch of road which is pretty much right bretween Penderyn and the A470 junction, and works well with a long tele-photo lens. In this instance I used my Canon 400mm f4.0 DO.
I only wish there was more snow either side, or even a layer of snow on top of the car, but hey, you can't have it all.
On the same road, just a few miles closer to the A470 I safely stopped in a layby, and for this shot I used my Canon 24-105 on its wide end.
Not a particularly fruitful day in terms of stunning news-worthy pictures, enough though to get me a couple of online hits.
For our whole set of pictures from the day, click here.
My second trip was somewhat more rewarding. It was again a weekday, schools were closed in the area, the sun was shining with nice blue skies everywhere, which not only makes for a better photograph, it helps with people's mood too, they tend to smile more which is usually what picture editors go for.
The couple above seemed to have had more fun than their two young children, who gave up after only a couple of attempts, as they tended to pirouette more on their sledge than go straight down the slope.
The parents had a big sledge, not sure though it was enough for two adults, nevertheless they couldn't stop laughing. Not only did they sleigh down the slope, but they seem to slide forward, off their sledge too.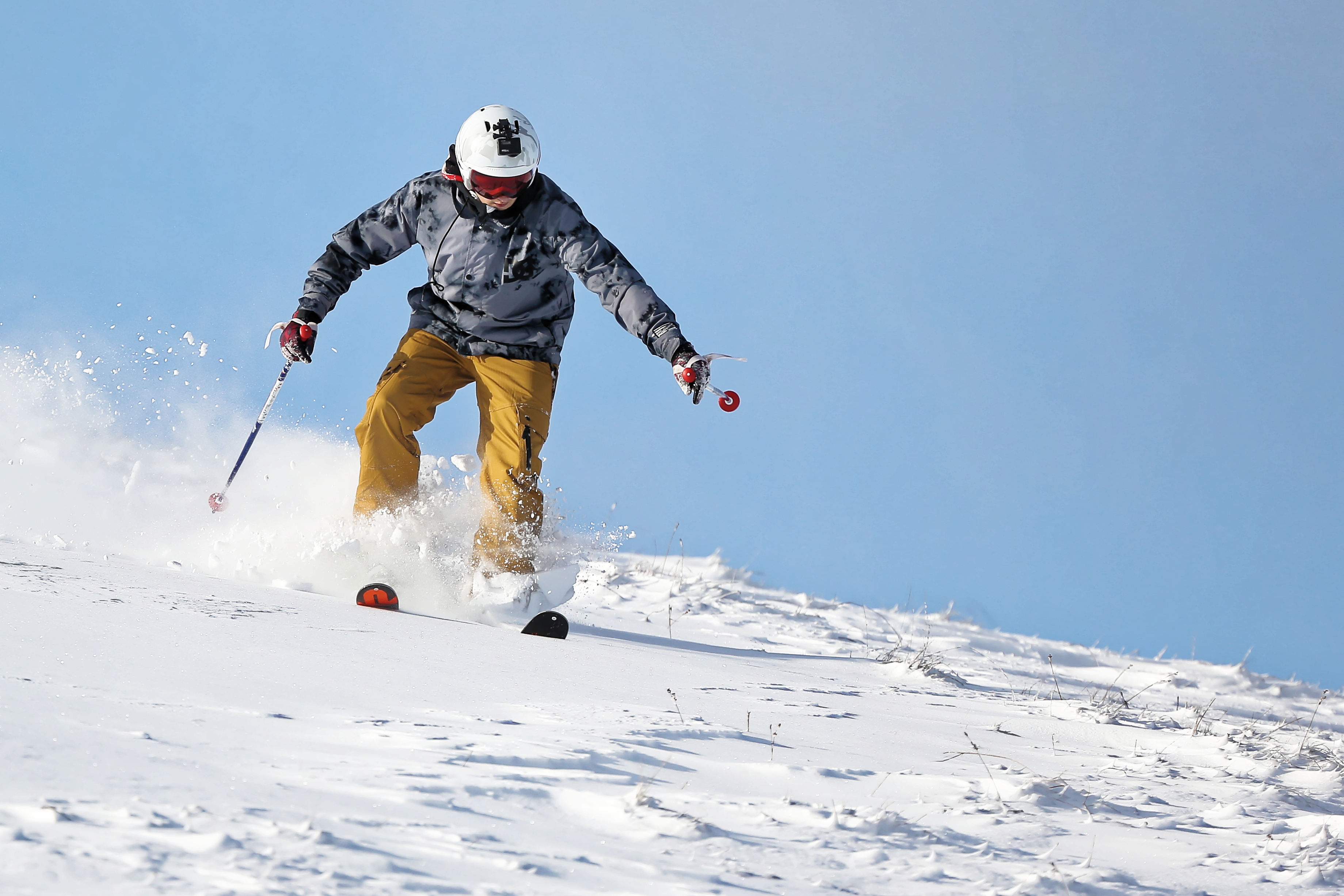 This works best as a triptych. I felt sorry for the poor man, he later confided in me that he his pair of skis was not very good with soft snow and they kept digging in.
My second day in the Beacons got me a hit in The Times, as well as a good few online hits.
For more pictures, see here.
Third day didn't involve much travelling. To start off, I only had to open my Velux window in my attic. and this was the result.
If only the moon was nearer the horizon so I could have included more of the rooftops.
Moments later, I was walking on the road outside my house. The iced over road surface was not as visible but still worked, well… just about.
Having just a few minutes to photograph before I moved on to the seafront, it was impossible to get someone walking on the pavement or even crossing the road, which would have been great. Instead, I was happy to get a picture of a travelling car.
My walk by the beach was more rewarding. Very quiet with the odd office worker pausing to take selfies with the sunrise in the background, or even with a couple of dog walkers on the beach.
What was strange, was a low flying cloud funneling through the entrance to Swansea Port which had to be part of my frame. From where I was standing, I could also see the sun rising. To get the shot below, I had to keep moving as did the walker and his dog.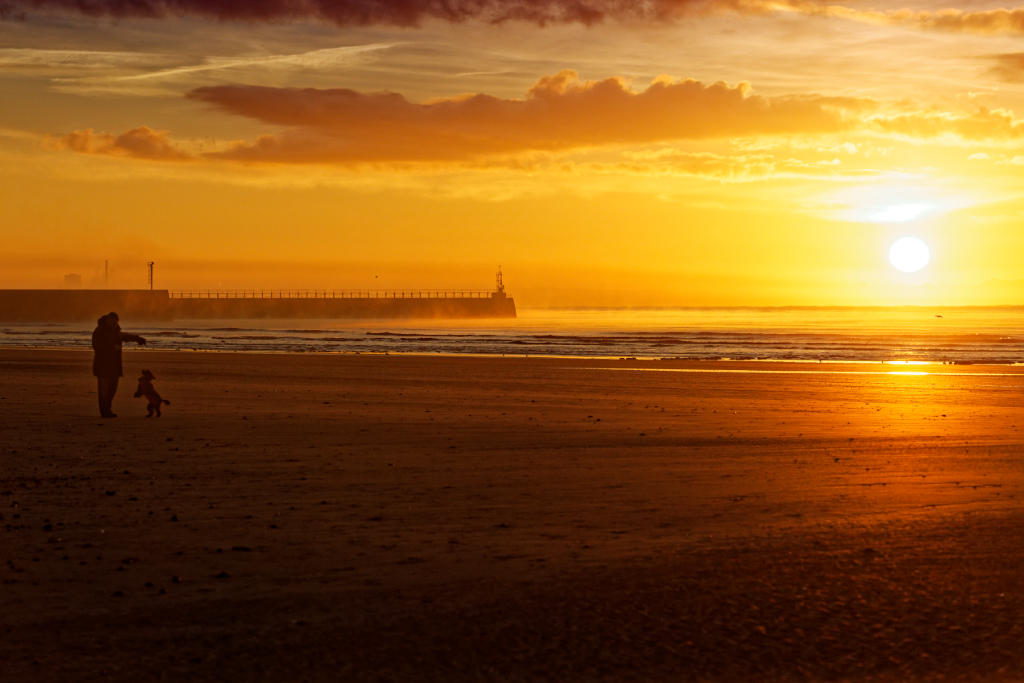 My Canon 70-200mm f2.8 was just stunning and focusing either on the man's silhouette or on the horizon beneath the sun was done effortlessly.
I even managed to squeeze a few frames from the promenade, a good few metres from the beach.
Thank you Mr Dog Walker, who ever you are!
JPEG compression however came to spoil the end result a bit as the file needs to be compressed so that it transfers quicker. That's the reason it is so essential to always keep the original JPEG or even better, the RAW version of the file.
To look through our entire set of images, click here.
Upon my return to the Council car park, I discovered that a token was needed to exit and had to wait for 10 minutes until the Library would open.
I was prepared for weather phenomena in terms of cemeras, lenses and clothes, but that I wasn't prepared for.
© Athena Picture Agency Ltd, proud suppliers of news and press photography, pr public relations photography, sports photography, features photography, stock and aerial photography in Wales, UK
Go Back