Christmas is not only happy Santas
Don't you just love Christmas? What's not to like, everything gets illuminated with countless little lights, everyone is wearing a Santa hat, the entire population buys gifts, the amount of which exceeds many times over that of the population of the UK (mostly with money they don't even have) and a great majority of adults, gets drunk and disorderly!
The bigger or more extravagant the Christmas event, the more chances it gets to make the news and as long a photographer is there to offer his services, then job done.
Then… a few day after everyone sober up, they show love and affection to their family and friends, specially the kids. And don't kids just love Christmas? No idea though, that their parents got utterly plastered during the same festivity.
Nothing to do with Jesus' birth though, don't take my word for it, look it up!
Anyway… photographs to do with Christmas, its build-up and crescento… honestly I wouldn't know where to start.
Here in Wales a lot of things happen that scream Christmas and make the news and at the end of the day, I am only making my living looking through a camera and pressing a silly button (called shutter release button to be utterly pedantic) at the right time, which someone called it "decisive moment", a phrase that us press photographers love to use when we get great pictures.
Don't get me wrong, it takes some skill to know what to look for, frame it and press the button at the right time.
I love the moment on the picture above, spoiled a bit by that other Santa runner in the background and if only the mast had a flag on it, any flag!
Did I mention that utter silliness can make the news too? What better way to show it, than have a powerful news picture with the news article?
Not a great sense of running and the gaps between runners are quite obvious in the picture above but at least you get a scale of the number of Santas running.
For more images from the above event, please click here
Now then… it all started as Black Friday, then the Yanks took over and decided that Black Friday is when people spend loads of cash before Christmas. "How dare you call Black Friday something so unholy (getting pissed yeah sic.) when it can only mean the sacred act of spending?" said Donald Trump in an angry letter to Teresa May.
It is now affectionately called Black Eye Friday, Black Friday or even Booze Friday, us photographers refer to it as booze-watch and hey, why not? Let the Yanks change it again if they don't like it.
When I posted the picture above to my facebook page, someone commented that "their mothers' must be so proud". He was of course being sarcastic. Then someone else commented in response: "How can they be? Their sons nicked their tablecloths to wear on a night out!"
There was an unusually high number of arrests by South Wales Police during the night. I mean, I have photographed quite a few of those events but never experienced so many arrests.
The man above struggled to get up, only to be mocked by the girls on the left. C'mon girls, where is your Christmas spirit? Help the poor man out!
To see our full set of images from the above event, please click here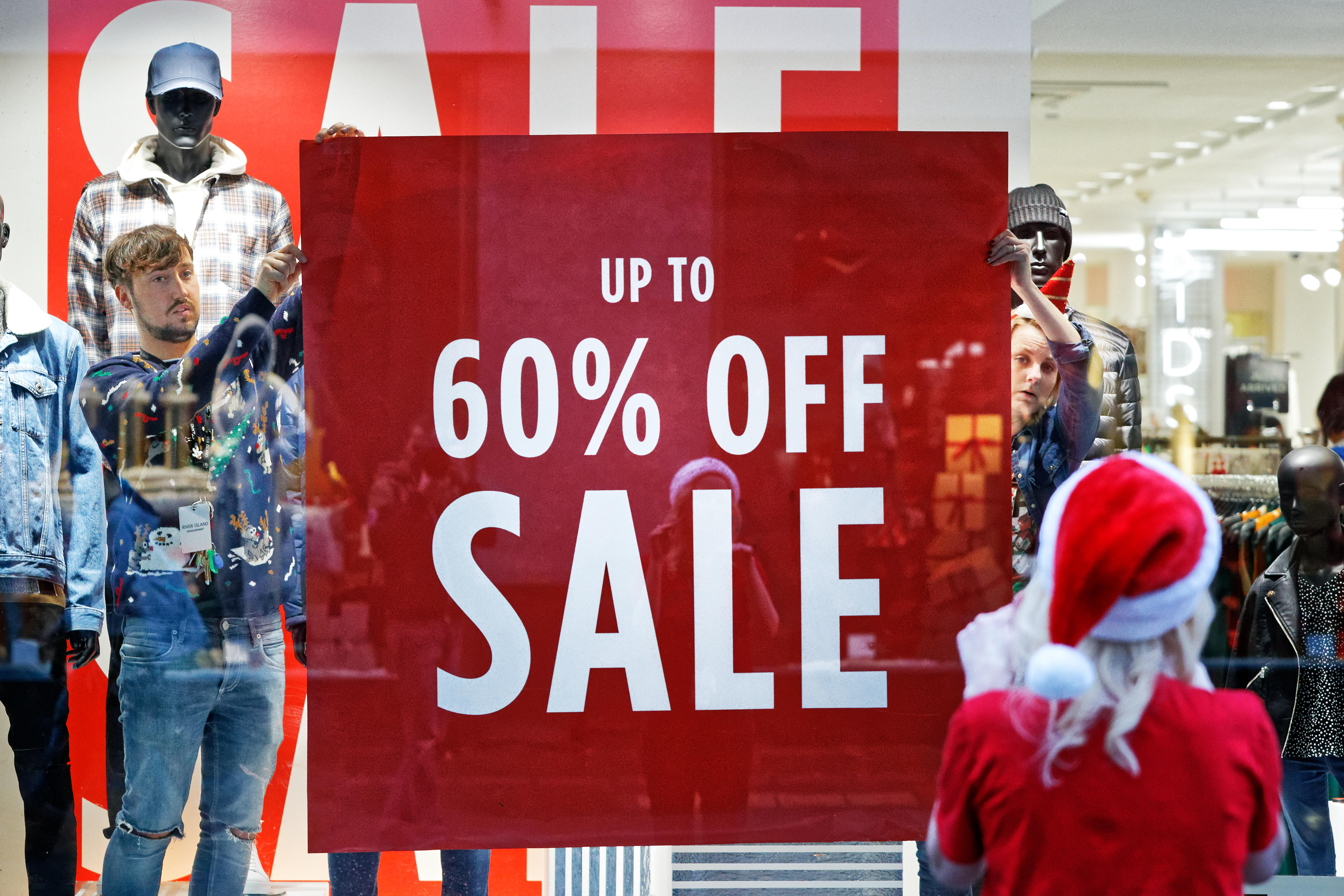 This was taken on Christmas Eve, being a Sunday, it was bound to be busy with shoppers in Oxford Street, Swansea. This just happened on my way back to my car. Two shop workers manouevre a big Sale sign to position, assisted by their colleague outside.Getting ready for Boxing Day Sales. Whoo-hoo, lets return all the expensive stuff and get it cheaper… I say!!!!
No reason not to stop and take a picture of the dramatic sky en route to photograph the annual Christmas Day Swim in Porthcawl. To be honest, I don't quite like HDR but other people just absolutely adore it.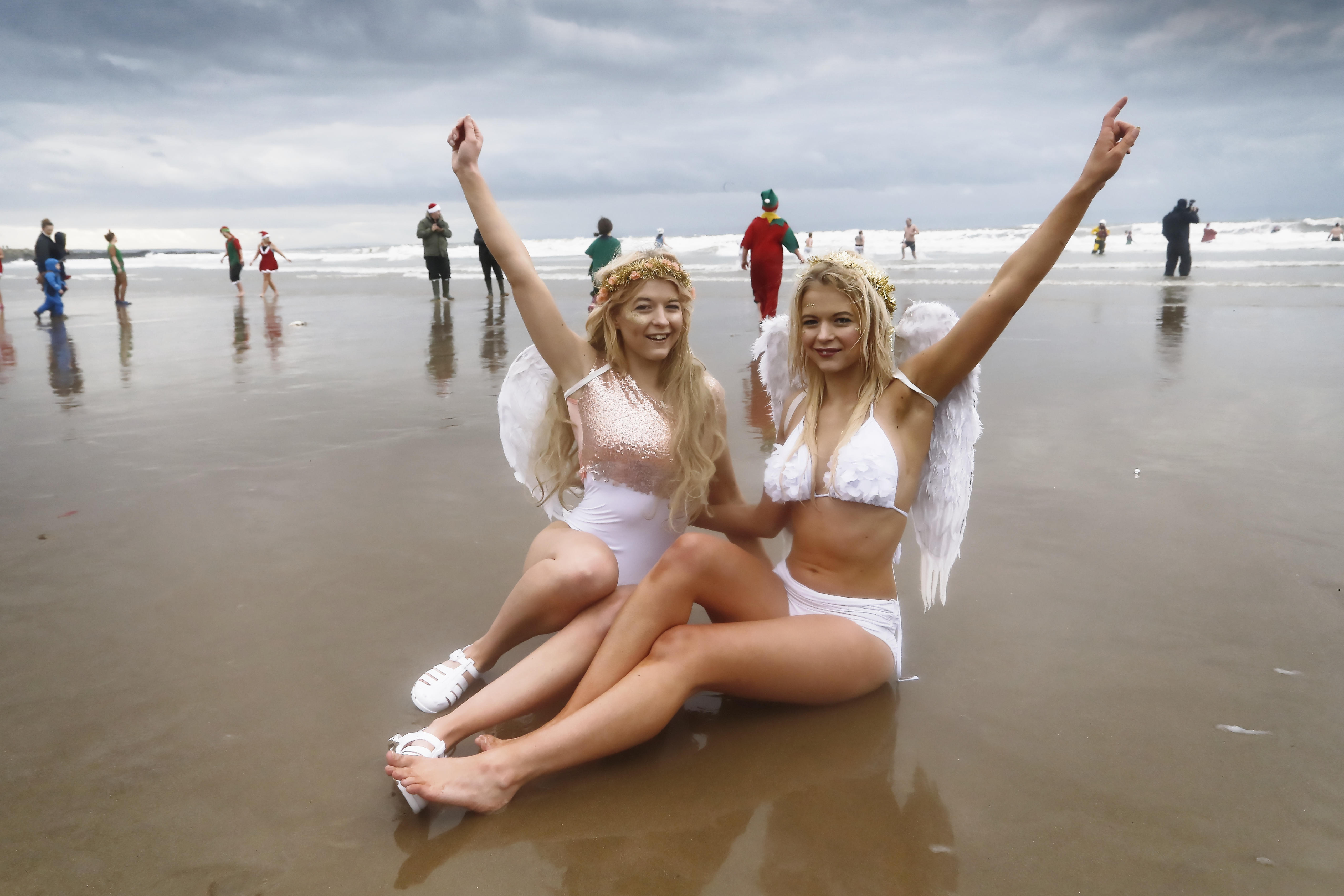 That's what readers of certain tabloid newspapers like, blonde girls in angel wings. Before you start saying, yes, the lens got a bit wet hence the softness.
Back in the good old days they were using Vaseline to achieve the same soft focus effect, I used sea water, what's the big deal?
Great expression of the man above and I love the somehow motionless pose of the woman on the left, as well as the couple hugging in the background. If only the man was wearing a Santa hat!
To access all of our pictures from the Christmas Swim in Porthcawl, click here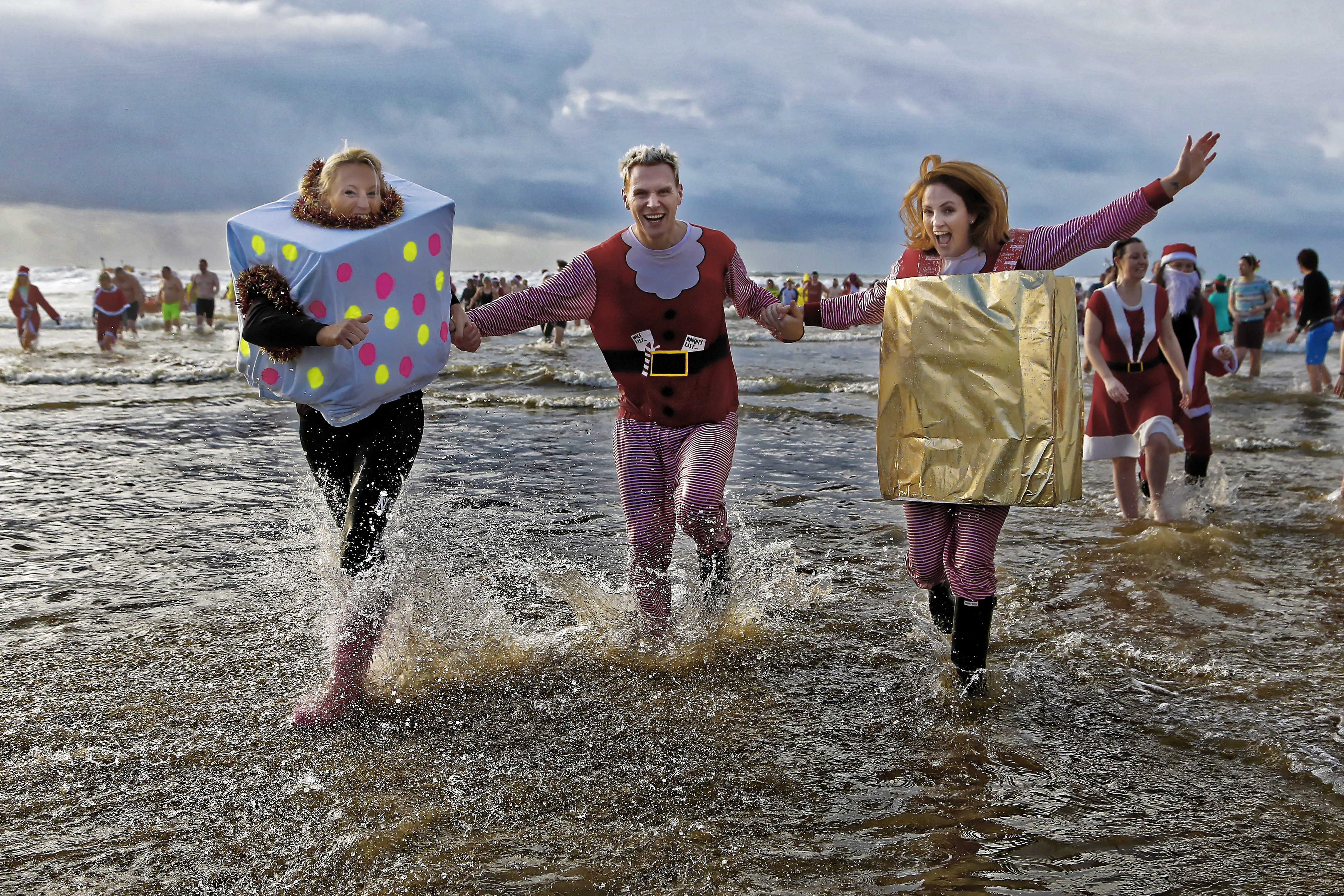 This was taken at the Walrus Dip, a swim taking place on Boxing Day at Cefn Sidan beach in Carmarthenshire, great laughs and movement, shame it was a bit underexposed.
Great opportunity to photograph the stars of the show, without these RNLI men, these events wouldn't happen at all.
Before I go though, here is something that the BBC will never, ever broadcast, in case children listen… Santa is not real kids!
Our Walrus Dip collection is here
To search through our entire archive, please click here
© Athena Picture Agency Ltd, proud suppliers of news and press photography, pr public relations photography, sports photography, features photography, stock and aerial photography in Wales, UK
Go Back