Swansea City FC, best pictures of the year 2018
2018 was the year Swansea City got relegated to the Championship after enjoying seven successive years in the Premier League.
The year is also a great landmark for Athena Pictures as it celebrates its tenth year running.
Working as the exclusive photographers for the south Wales Club, we have witnessed first hand what has been happening behind the scenes.
Some of those images have never been published and as you may notice, I have tried to not include many action images.
This must be one of the best images I have ever captured as a photographer. It was taken during the kit photo-shoot for the 2018-2019 season.
Wilfried Bony had just had his pictures taken with both home and away kits but decided to photo-bomb Leroy Fer's shoot, in a way, I am so glad that he did.
It would be best to carry on with the studio theme and it's worth mentioning that 2018 was the first time that I was allowed to create set-ups outside of the boundaries of a sterile studio.
Some images were taken at Exist Skate Park, some other in a local gym.
Club colleagues and I also utilised the concourse of the Liberty Stadium, using a magnificent graffiti as a backdrop.
These are from the third kit photo-shoot which a lot of people have to keep their lips sealed for.
Not only Leroy Fer is a great footballer, he is also a natural when it comes to posing, everything he does seems effortless, both on and off the pitch.
The same applies to Connor Roberts who seems to adopt very well in a studio environment.
Moving on to a bit more of what footballers are used to be seen doing.
This is just a candid moment between Tom Carroll and Courtney Baker-Richardson on the training pitch.
I like the intimacy of it. There must have been a bit of banter between them but still, they seem to be working hard training.
Ever since I started working with the Club, time and again I hear managers talking about how players enjoy their football. This image reflects the camaraderie between players and how happy they seem to be going to work.
Sometimes the need arises when portraits have to done outside of a studio. Although not very easy to convince a player to do pictures away from a Club facility, it works a treat when it happens.
Leon Britton needs no introduction. After spending years as a player in different leagues, a short spell as caretaker manager, it was time for him join Lee Trundle in becoming Club Ambassadors.
This is a moment of great historic importance. Angel Rangel enters the pitch with his wife and children, for his last ever appearance for Swansea City.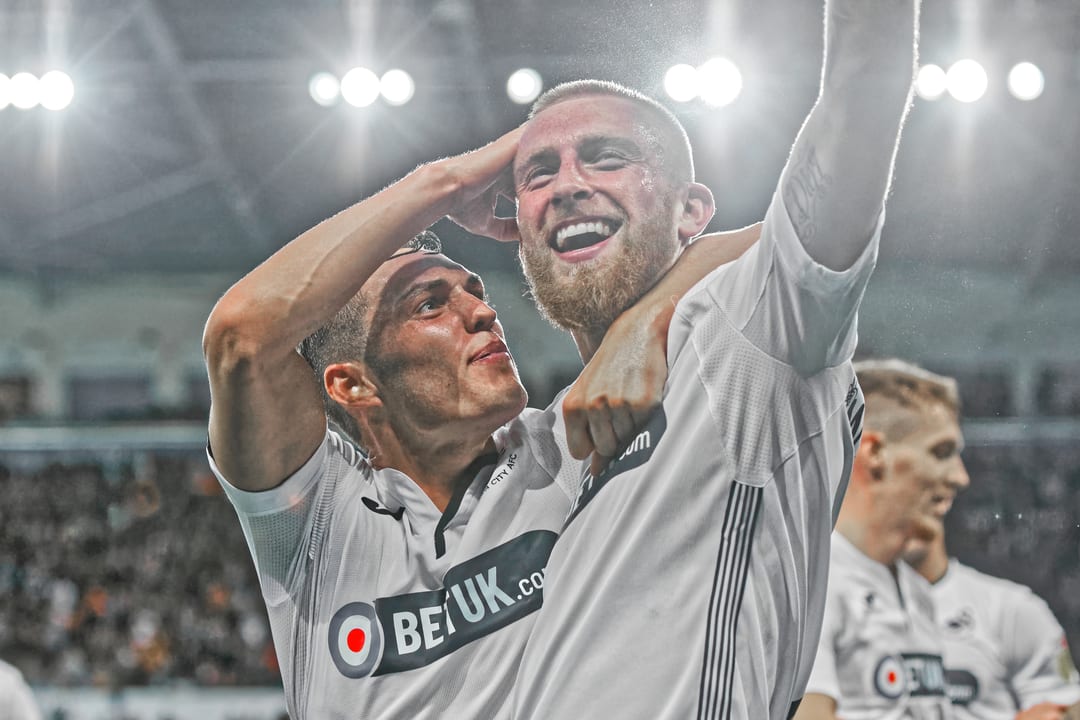 Connor Roberts and Oli McBurnie celebrate the latter's goal against Leeds United at the Liberty Stadium. 21 August 2018
Nothing of course would be possible without the support from these guys.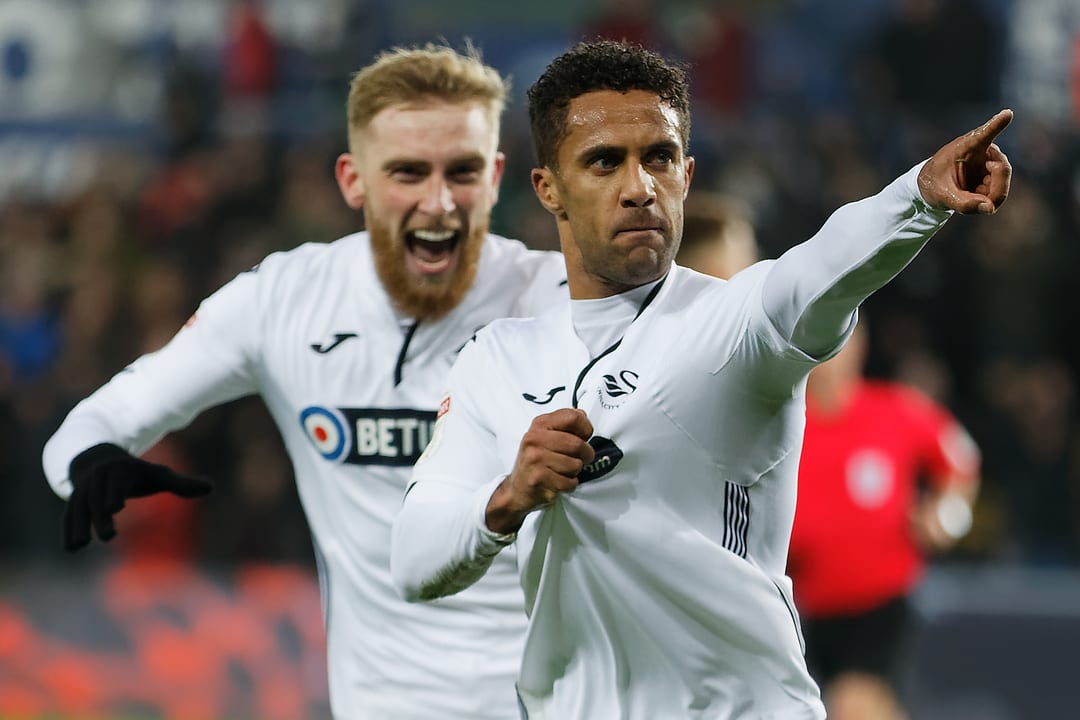 Wayne Routledge of Swansea celebrates his goal against Sheffield at the Liberty Stadium. 15 December 2018
Go Back